Something Things About Me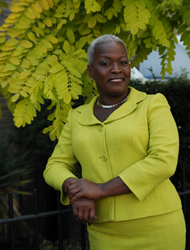 The nine years I lived in New York City during the 70s, having left my heavenly birthplace, Barbados, was one of the most enriching times of my life. That's when I learned to live fearlessly! And I left knowing that if I could do it there, then I could do it anywhere!
I'm a Taurean: tenaciously optimistic; doggedly determined; lover of music, people, good food; all things homely and beautiful. Being in nature and deeply understanding that I am a part of the mysterious workings of life, fills me with tremendous gratitude and joy. I have a list of places I'd like to visit and things I'd like to do before I die. And every time I tick one off, I add another! How could I have forgotten to tell you about the huge turning point in my life called cardiac surgery! One sunlit morning in September 1998 I walked out of the hospital, my new valves ticking loudly, feeling decidedly unstoppable!
Doing voluntary work in a hospital is, to me, one of life's unique opportunities: one of the things to do before you die. Because of my positive experience with patients, I was approached by one of the consultants to write a chapter The Empowered Patient in a medical publication for junior doctors published by Oxford University Press. This has opened opportunities for me to give one-hour talks to second year medical students. I enjoy working in high a security male prison. Some of the prisoners have said how much I've inspired them; given them a glimmer of hope for the future.
Never one to feel I'm too old to look for a new opportunity, I signed with a modelling agency at age fifty-two, six weeks after I'd had a mini stroke. An edifying moment; a 'stoke of insight'. Never before had I been so clear about life and what is, and isn't, important. The concept of time now has a much deeper meaning. I've developed a coaching tool around this experience. Although I've never been approached by Vogue or O Magazine!, my luck turned when Good Housekeeping (UK) invited me to be part of a feature article in their November 2008 edition! *See in the news page.
University of Life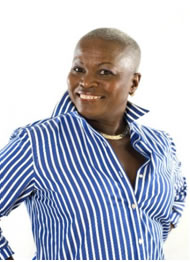 And yes, I've had formal training. I studied social psychology, neuro linguistic programming (NLP), and I'm a certified Martha Beck coach. The continuing education that Martha provides keeps her coaches abreast of her latest discoveries! I also learn from others. But the bulk of my coaching education came through the school of hard knocks, and the University of Life. No classroom in the world could have prepared me for the life I've experienced; chiefly, mothering a sick and disabled child. Tiffany was an excellent teacher. Her words were few, very few. I therefore, had to speak up and speak out on her behalf. Her mobility was severely limited. She took didn't walk until she was 7. And she chewed her food, properly, for the first time at age 13.
I had to interpret every physical gesture. I learned to listen closely. Therefore, I had to stay in the present moment. And she would screech with delight when my interpretation was spot on! In spite of her 'genetic flaws', she was the happiest, friendliest, and most contented person I've ever known. She was endearing. Something magical happened when Tiffany entered a room. She was also a music savant. Perhaps she'll return next lifetime as an opera diva!
But, her most profound message came during her final days in hospital: 'You cannot change anything for anyone else. No matter how close the relationship. No matter how strongly you wish you could. It's not your responsibility. This is my life; my story; my destiny.' Once I got the message; felt the love therein, she left. And I said: Thank you for being in my life; for teaching me so much. Caring for my daughter was a privilege; not everyone gets the opportunity to be inspired by such a life. Though everyone is given the chance to embrace each and every experience they encounter according to their spiritual needs.
Some of my values
My voluntary work at the heart and lung hospital – where Tiffany had been a patient and where she died – has given me numerous opportunities to reach out to, and be inspired by, some of the most courageous, (and some of the most frightened), people I'll probably ever meet. It has been a close-up view of the human spirit at its most vulnerable. The concept of 'why people don't heal, and how they can', as taught by world renowned medical intuitive, Caroline Myss, has become clearer. I am repeatedly reminded that we're all the same in spite of our cultural beliefs, education, ethnicity, or financial ability. Largely because of the element called oxygen. Perhaps if we were to grasp this reality we would learn to transcend our differences; be more tolerant, have different priorities, and be more compassionate.
Giving back, sharing what I've learnt with others, forms the nucleus of who I am. It is therefore natural for me to reach out and support those caring for their sick, and, or, disabled children. I encourage them to recognise and acknowledge their feelings and limited thinking. Instead, see their experience as a 'defining moment'; as opportunities to challenge their social beliefs around disability, especially; not 'failures' or 'weaknesses' based on society's unenlightened perspective. It is not about the packaging.
Now, having reached the big 60, there are fresh challenges and new beginnings afoot. And this transition includes the challenge of learning a new language!
Your generosity of spirit; insightfulness and wisdom; demeanour and style, are what set you apart from the next amazing woman. You are fun, brilliant and creative. And the contribution you make to society is boundless. Deborah, your 'global citizenship' reveals a genuine appreciation for the peoples of the world, as you travel from country to country, bringing your bountiful skills —
Shirley McGill, outward bound consultant, New Jersey
To order copies of my books click on the book covers below: