Coaching Services

According to Dr Martha Beck "Life coaching is one of the cheekiest-sounding phenomena to emerge from the end of the twentieth century….it is a gritty, potent method by which adults can be induced to change their lives."
Question: Is there a NEED for what you have to offer? Because you'd be surprise how many people are looking for what you can provide. Would you like to take the first step towards unearthing that something?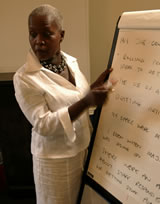 This programme is designed to help you reach your desired outcome; bring out your inner 'fire'; ignite your passion, and shine dazzlingly! You will be coached, step-by-step, on the following:
What to aim for?
Explore your current reality
What are the options?
What are the barriers, or traps, that are keeping you ensnared?
What are the learned beliefs that inhibit?
Courage to take risks
The way forward
What steps are you committed to take?
Action plan
"Remember, coaching is quicker and easier than if you were to work on your own"
I do not give advice. I prompt. The answers to every individual's life are embedded within their subconscious mind, within their experiences. The methodology I use is purely to encourage you, the client, to step out of the box; go beyond your self-imposed limitations, and connect, perceptively, with what's really real for you. I only coach people who are committed to changing their circumstances and their socialised beliefs; people who are determined to challenge their fears; those who want to develop their inner strength and move from fear to freedom.
"Courage faces fear and thereby masters it." Dr Martin Luther King, Jr